7 Things To Do For A Fun Boys Weekend In Hicks Bay, NZ
Going out with the boys for a weekend trip but not sure where to go? Find your way to Hicks Bay, New Zealand and experience the best weekend of your lives. If you're game for endless action and adventure this time, you're in for a treat because this place won't let you rest unfulfilled.
Sure travel is always a fun thing, but coordinating tours and where-to's can be confusing. Let's make it easier for you through this guide.
1. Climb for the first sunrise
Who would even go to Hicks Bay, New Zealand without catching the first sunrise? Make this experience count by going on a hike to the top of Mt. Hikurangi. Watching the sunrise from there offers views unimaginable.
If you get there before the crack of dawn, you'll see the first rays peeping through the mist of clouds. Wait 'til the sun fully rise, and you'll see the wonderful scenery revealed before your eyes.
2. Experience a glowing night
Don't let your first night go to waste. Catch glow worms by hiking to the Glowworm Grotto at dusk until twilight. Once you reach it, hang out a little to wait for glow worms to fill the area, or simply watch the million stars in the night sky.
The stars will light your way back to the motel. But make sure to bring additional light sources in case you need them.
3. Hike your way to the beach
The Chopper's Trail is a rugged path that will lead you down to Onepoto beach. It's one interesting hike trail that adventure-seeking backpackers find extra fun.
Afterwards, you can enjoy the sandy frills of Onepoto beach, swim or just take a rest by the shore. Take it all in and get ready for more adventures this place has in store.
4. Catch another first sunrise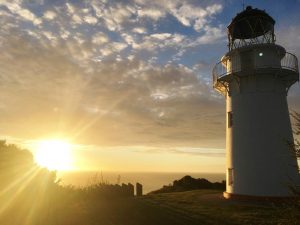 One should never miss a single sunrise during their stay in Hicks Bay, New Zealand. You have to catch it from the best views of the town. One famous view is from the East Cape Lighthouse.
With just a few minute drive and a short walk, you'll reach a place where the views are incredible. Waiting the sun rise from East Cape Lighthouse will be such an amazing experience for you and your best pals.
Imagine a view where the first sunlight appears glistening by the bay, shining on the rolling waves below, and the vast mountain ranges from afar.
5. Visit New Zealand's tallest falls
If you still got the energy for it, never miss out on Wairere Falls, just a short drive from the motel. A 1-hour hike will lead to another majestic view of great landscapes from this famous falls in Hicks Bay, New Zealand.
Fresh running water will cool you down as you marvel at the beauty of the tallest waterfall in New Zealand. Views from here are grand and so much worth the hike.
6. Drive along the highway
Adventure won't come to you if you stay in one place. Good thing you can hit the roads and explore the wonders in Hicks Bay, New Zealand through the Pacific Coast Highway.
Pass by a series of old towns and see how the locals live. At the southern end of Pacific Coast Highway, you'll find Gisborne. There, you can try the best-tasting food and wine Hicks Bay has to offer.
7. Cycling is always a good idea
Challenge your buds to an outdoor cycling to and from Hicks Bay. You'll find bike rentals in Opotiki and great cycling trails around the area.
Cycle through rainforests, rough mountains, bridges or sand dunes through Motu trail. Hicks Bay Motel Lodge can arrange you a cycling trail and tour so you can make the most out of your stay.
Whatever your weekend plans may be, great adventures are waiting for you and your buds in Hicks Bay, New Zealand. Get your boys out and plan the best weekend trip with us!