What You Need To Know Before You Go Zorbing In Rotorua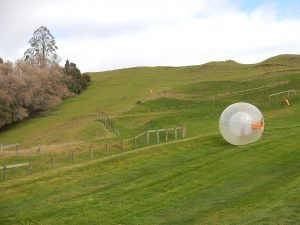 Among the many adventures New Zealand has in store, some of them can be a one-of-a-kind experience too. Zorbing in Rotorua is one of the activities added to bring fun to New Zealand's naturally steep mountain slopes.
It's a recreational activity fit for any kind of adventurers– young or old, newbie or adrenaline junkie, or anything in between. It uses a man-made ride called Zorb where participants ride inside to be rolled towards the terrains. The catch: Zorb is a giant inflatable ball, so the ride will be a different kind of extreme.
Not sure if this is for you? To help you understand about Zorbing in Rotorua, we've got these tips:
No, it won't hurt
Even if you're thrown in all directions inside the sphere, you have nothing to fear because it's totally safe.
It's designed to be inflatable so players can ride it safely. You can ride it harnessed, or if you prefer to bump and experience the ride more, choose to ride without any gear on. Either way, it's totally safe.
Sometimes, the zorb is filled with water to make it more slippery inside. This helps the rider to be at the right places even if there are bumps, or if it goes at a fast speed. This is also called hydro-zorbing.
The spheres are expected to bump into something as your ride them, but just consider it an added thrill to your ride.
Yes, it's safe for kids
Of course it's safe for kids, but with an advisable age limit of 5. Little children may not enjoy the thrill as much as the older ones.
If you have kids that are still not allowed, or are too afraid to ride, you can ease their tension and let them get rolled on by a zorb instead! It looks a little scary but know these gigantic zorbs are lightweight so there's no reason to worry.
We haven't yet heard of a single kid who said they didn't have fun zorbing. All we hear are parents complaining when their kids asked to come back again for another ride, and that's telling.
You can try different tracks
Difficulty level of the ride depends on its tracks. The higher the slope is, the faster and longer your zorb ride will be.
Some might say it feels longer when you are inside. Others say time felt too short for the whole ride. Either way, it's a fun experience you have to try out!
Your clothes will be soaked
It's going to be a wet ride, so don't forget to bring extra clothes with you. Even if you don't go hydro zorbing, there's a big chance you'll be perspiring a lot inside.
Clothes should also be comfy and conducive for a rough ride. Gym clothes are advisable as well as swimsuits, but make sure they're going to hold it well. You'll be thrown around, bounce all over and bumped on, over and over, so make sure they'll stay in place– you wouldn't want an embarrassing wardrobe malfunction after.
It's as fun as it looks
Watch one Zorbing video, or just check out some photos and you'll know how fun it can get. You can ride a Zorb solo, or with 2 other companions to share your giggles with for a more fun ride. A normal Zorb can fit up to three people inside.
Weight limitations are also observed for safety purposes. Some would even limit the person for each ride. Pay attention to the organizers so possible dangers can be prevented.
It's invented in New Zealand
Yes it is, and now, Zorb has been widely accepted all over the world! '
Brothers Andrew Akers and Dwane van der Sluis invented this awesome ride back in 1994. Since then, this model was acquired by companies and adventure parks in different parts of the world.
The biggest and grandest tracks are also found in Rotorua– right where it all started! The inventor himself, Andrew Akers built the largest Zorb park for everyone to experience. Check out OGO Rotorua where the highest track was made for the public to use.
At the foot of the track, there's an outdoor hot pool waiting for you. You can spend time enjoying the majestic views of Mokoia Island and Lake Rotorua as you dip inside this steamy pool.
For fun-seekers, Zorbing in Rotorua is an experience you shouldn't dare miss. Traveling to New Zealand is best done with an adventure or two– and Zorbing should definitely be part of your list.
If you're visiting around Hicks Bay, New Zealand, opt for an accommodation that's accessible to all important places and activities like Zorbing. We've got that and more in Hicks Bay Motel Lodge. Book with us now!