Mokoia Island: The Mystic Island In Lake Rotorua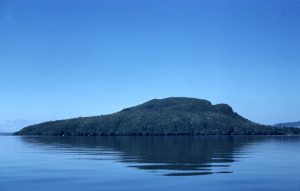 One of the richest places in New Zealand's history can be found at the center of a lake. Mokoia Island in Lake Rotorua was once home to the Te Arawa people. Its beauty has gone through centuries of age-old legendary tales, and a rich sense of history.
Long before its tranquil state today, this mystic island has survived cruel battles and bloody wars. Carved in its rocks are scars from battles won and lost centuries ago. Now uninhabited, Mokoia Island still holds a beautiful memoir of the Te Arawa's love for this treasured place.
What makes it so mystic and definitely worth your visit? Here are some:
The mystery behind its formation
Mokoia Island looks like an island that popped out of nowhere in the middle of the lake, and honestly, that's exactly how it was formed.
It's an island borne out of a rhyolite lava dome that rose to the lake's surface. This was caused by Rotorua Caldera's formation, that made rhyolitic magma pushed through the cracks, making this island pop out onto the lake's surface.
This has also made the island blessed with geothermal and hot springs and rich, volcanic soil for vegetation to flourish naturally.
Legendary tales make it alive
What's more interesting about the place is the story it holds. Maori legend has it that Mokoia Island was a testament of a young and passionate love between Hinemoa and Tutanekai.
Hinemoa, a young maiden and daughter of a chief who lives in Mokoia Island, was forbidden by her family from leaving it. She fell in love with Tutanekai, an illegitimate child, who lives across the lake. Their love is the sound of the sad tune of Tutanekai's flute when he played at the lakeside every night.
One night, Hinemoa decided to swim through the lake to reach her lover. Guided by the sound of his flute, she reached Tutanekai's home and the two were inseparable since.
Because of this, Hinemoa and Tutanekai were wedded and their families across the lake made peace. This story and the song sung by Hinemoa before she swam to Tutanekai is now part of the Maori's colorful tradition.
It has a beauty to lust over
There have been a series of battles in this little island. The old Te Arawa people who used to live here has been keen on protecting their home from foreign settlements ages ago.
Maori blood were shed and souls were lost in this beautiful place as they continue to protect their home from the tyranny of nomads and abusive men. The island's strategic location, let alone its rich vegetation, were enough for any men with cruel intentions to lust over its beauty.
Now the island is a protected sanctuary that houses wildlife and extinct wild birds. Maori tribes hold this place sacred for traditions, and camp in its grounds for ceremonies and trainings. Tourists can also enjoy its scenery, listen to the bird's songs, and swim through its hot springs by paying this island a visit.
It's a sacred sanctuary
Rich in tradition, the Maori has kept this place sacred and untouched. With the help of New Zealand Department of Conservation, Mokoia Island now serves as a wildlife sanctuary for birds and other creatures. If you're a tourist, there are so many things you can do around here!
You can cruise around the island and around Lake Rotorua by boat, go bird-watching, take a guided bush walk and explore its rich treasures, and after, soak your tired body in its numerous hot springs. The Maori also welcomes tourists warmly here, they are happy to serve you with their best cuisines and show some of their traditions.
A place with so much to see and know about is Mokoia Island. Its sacredness, mystery, and rich tradition makes it worth your visit. If you're travelling around New Zealand, don't forget to include this island in your itinerary!