Rere Rockslide, Gisborne – Nature's Playground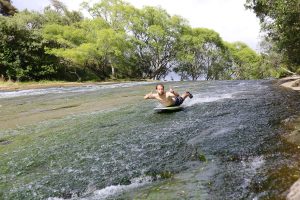 New Zealand nature is pretty awesome for its views, but it also has a few natural "playground" attractions to boast of. The Rere Rockslide is one of those gems.
Grab your swim shorts, a towel and pack a picnic lunch, then head to the Gisborne i-SITE Visitor Information Centre for information on equipment hire and more specific directions to the Rere Rockslide.
The Rere Rockslide – Nature's Playground
The Rere Rockslide just outside of Gisborne's main city is a located just off of Wharekopae Rd. It's a 200 foot rock slide made slick by moss growth with continually flowing water which is fed into by the Wharekopae River. While the weather is warming up, however, keep in mind that the waterfall and pool below it may still be a bit chilly, so bring a sweater or change of dry clothing.
Equipment Hire
To avoid getting scrapes on the slide, equipment is highly recommended. If you don't have your own, contact the Gisborne i-SITE for reasonably priced equipment hire. Check out the Gisborne i-SITE Visitor Information Centre website, call, or stop by in person for more information (209 Grey Street, Gisborne 4010, New Zealand).
A Few More Notes on Safety
There is no lifeguard on duty. Sliding down the rockslide is at your own risk. All ages can use the slide but you may come away with a few scrapes and bruises. Using equipment to slide will minimize this risk. For more detailed information, ask a representative at the Gisborne i-SITE Visitor information Centre.