Wharekopae River Got Adventure Flowing In Its Currents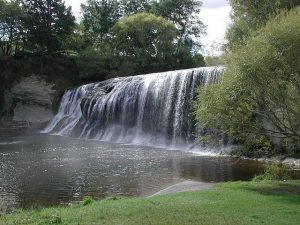 New Zealand has a lot to offer its tourists. With every series of mountain ranges, canyons, and forests waiting for you to go on an adventure, there are also beaches, rivers and hot springs to add more fun to that.
We bet you love adventures as much, because here in Wharekopae River, adventure comes flowing– and sliding– through its lovely currents!
More about Wharekopae River
Wharekopae River rises to a start at the Maungatapere slope, flows eastward and ends at Waikohu River. It covers a whole stretch of 30 kilometers, passing through communities including a number of county sheep and beef farms in the area.
This river is the lifeline of the communities surrounding Gisborne, including the small Rere community. People in these areas work together to protect the river's waters and help build sustainable practices to preserve its fresh waters.
Check out the Rere Falls
As the river passes along Rere, it cascades down to reveal a magnificent waterfalls. The Rere Falls is one of the most famous attractions for tourists visiting Gisborne.
You can have a picnic at the side of the falls, jump to its waters or swim by its foot. The Rere Falls offers stunning views made by a naturally made rock cutting the Wharekopae River's peaceful currents.
If you plan on reaching this through a bicycle, opt to go through the Motu Trail. Picnic areas are also in plain sight where everyone can enjoy snacks and packed lunch with this lovely falls as background. Families and big groups prefer to stay a little while here, as it is a truly relaxing place for everyone.
Try the famous Rere Rockslide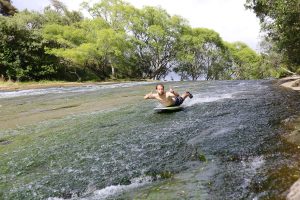 Now did we say adventure? Big, slippery rocks also tried to break the flow of the river, opening up to a new kind of adventure for tourists– the Rere Rockslide.
The Rere Rockslide is an ultimate experience you should definitely try when visiting here. It's a 60-meter rock that lays through the Wharekopae River, letting you slide your way down into a deep pool. It is sloped at about 30 degrees, giving you one awesome slide-ride.
Sliding here can be fun for all ages, but remember to be careful at all times. But also don't worry too much, because Rere Rockslide is considered safe by locals in the area.
Tourists would get creative using different slide rides they can come up with. The most common are the use of surfboards, inflatable mattresses, and boogie boards in each slide. The most creative ones use yoga mats, inflatable pools and chairs, and some even use tires! All of them offer different ride-and-slide experiences.
Experience it all for free
The best part? This fun experience won't cost you a single dollar! It's open to everyone that's why be prepared for other tourists that flock the area.
Most of the day it's usually packed with people, but if you want it all to yourself, try visiting the place early in the morning. Early morning sun views are divine when viewed from the Rere Waterfalls.
There won't be someone responsible for your activities here, that's why make sure everyone will be safe while having fun. Don't let kids slide through if you're not confident about it. Also, rocks beside the falls are slippery and can be a high risk for danger.
What's not to love about Wharekopae River? It has different kinds of personalities, perfect for different kinds of travelers. If you're looking to do another adventure you've never done before, try sliding in its naturally-made rockslide and have the best time of your life!
The Wharekopae River runs around the town of Gisborne, which can be reached through East Cape road. If you're looking for accommodations around East Cape and its surrounding areas, go for the best there is. Hicks Bay Motel Lodge can give you the type of stay you deserve. Book with us now!