Love Plants? Head to Te Puna Quarry Park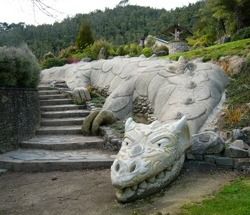 Once you behold the beauty of Te Puna Quarry Park and experience all it has to offer, it will be hard to believe that this majestic place was once nothing more than a pit on a hillside. What used to be an abandoned quarry is now a collection of well-maintained walking tracks, spectacular gardens, art installations, and picnic areas that can rival the most well-known parks in the world.
What you'll find
At the park, you won't run out of things to discover and do. If you love plants, there are several garden areas to explore here. There's an Australian plants area, a South African plants collection, an orchid collection with thousands of cymbidiums, an herb garden, and a showcase of heritage roses.
There's also an Ornamentals section, a Palm Grove, and a collection of all Fuchsia blooms. Aside from these, you can also explore the butterfly house, the natural amphitheater, the sculptures and art installations, and the various ponds in the park.
What to do at Te Puna Quarry Park
Aside from taking in the flora and fauna, you can also stroll along the walking tracks and enjoy the breathtaking views of the beautiful Bay of Plenty. The tracks are suitable for all ages but bring sturdy footwear.
What to expect
Admission to the park is free, but donations are welcome. The area is accessible to the public during daylight hours. If you find the main gates closed, park outside and enter on foot.
Planning your next trip to Te Puna Quarry Park? Let us know how we can help you, we are one email away.