Hunting at the Waioeka Conservation Area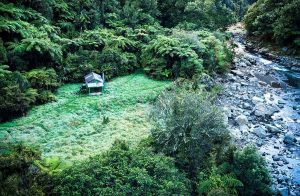 The Waioeka Conservation Area is a hunter's paradise. The 39,200-hectare area offers an excellent opportunity for hunting pigs and red deer, which are abundant in the Waioeka River catchment. The terrain in the Waioeka Conservation Area is marked by relatively steep gullies, meandering small streams, and extensive bush cover.
Aside from pigs and deer, you may also see goats in the area. There used to be a control programme aimed at reducing the population of goats in the Conservation Area to zero density. If you come across any goats, please shoot.
Alternatively, you may inform the Department of Conservation Biodiversity staff at the Opotiki office of the number and location of the goats you saw.
How to get there
There are several ways to get to the Waioeka Conservation Area. You can get there via several access points on State Highway 2. The Waioeka Conservation Area is south of Opotiki and west of the Waioeka Gorge.
To get to the Waioeka Conservation Area, you have to cross the Waioeka River. There are a total of three bridges on State Highway 2 that will give you access. There's a bridge at Wairata and one at Oponae. There's also the popular Taranga Bridge.
If you are going to the Kotepato and Nikau Huts, access is via the bridge at Wairata. If you are going to the Kahunui Hut or the Koranga Forks Hut, access is through the Moanui Road at the southeastern end of the area.
Access and permits
You will need to secure an "open area permit" to hunt on public conservation land like the area. You can get a permit from a Department of Conservation office or online. Only dogs with a permit from the Department of Conservation are allowed to hunt in the area.
For more information about the area, please contact us anytime.