Bask in Art and Nature at Te Puna Quarry Park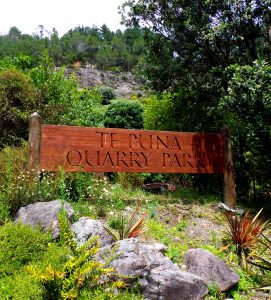 The beautiful Te Puna Quarry Park was developed by a committed group of volunteers from what was once essentially just a scar on the hillside. From an old disused quarry, a world-class park with majestic gardens, scenic walking tracks, sculptures, a butterfly house, and picnic areas now stand.
Visit the Te Puna Quarry Park and you'll find ponds, cliffs, gorgeous views of the Bay of Plenty, and spectacular gardens of every variety. There are numerous special garden areas, including a South African area, an Australian area, a Palm Grove, a collection of thousands of cymbidium orchids, a collection of Heritage Roses, a Fuchsia area, an Herb Garden, and a Mixed Ornamentals collection.
What to do at Te Puna Quarry Park
You can simply walk around and admire the sculptures, gardens, ponds, and stunning views. There is a picnic area, a natural amphitheatre, and a butterfly house and garden with Monarchs and native Admiral butterflies.
The Te Puna Quarry Park is a popular venue for art exhibits and celebrations such as weddings.
There are walking tracks suitable for individuals of any age and fitness. Wear sturdy footwear if you plan on walking the circular track.
What to expect
The Te Puna Quarry Park is open daily during daylight hours. Admission is free, though the park also welcomes donations. If the main gates are closed, vehicles can be parked outside and visitors can enter on foot.
If you plan on walking or tramping the various walking tracks inside the Te Puna Quarry Park, grab a Park Guide from the Information Kiosk at the entrance. Dogs are allowed to enter the park, but they must be on a leash.