East Cape Lighthouse Guide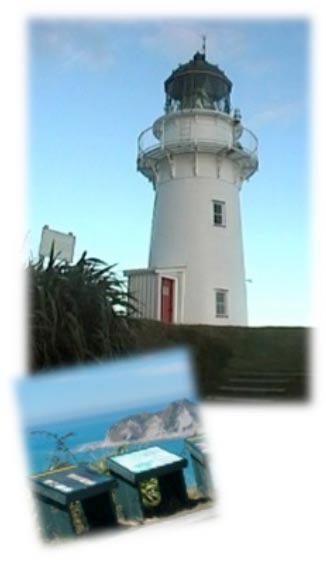 East Cape Lighthouse, the world's most easterly lighthouse, was originally located on East Island, just off the tip of East Cape and was first lit in 1900. This location was troublesome right from the start. The goverment steamer capsized while bringing tower construction materials to East Island.
The Island was also very unstable, by the 1920's the croding cliffs were coming close to the lighthouse. Life at East Island Lighthouse was hard for the keepers. The clay soil made it difficult to grow vegetables or keep stock.
In April of 1922 the light was extinguished, the tower and buildings were relocated to East Cape at Te Araroa. In December of that year the light was lit using a paraffin oil burning lamp, this was later replaced with an incandescent oil burning lamp.
Life improved on East Cape, Keepers could travel into town for supplies and their children could attend the local school, they were also able to grow vegetables and keep stock. Original East Cape was a three keeper station.
In 1954 the light was converted fron oil to diesel-generated electricity. In 1971 the lighthouse was connected to main power and the station was automated withdrawing the last keeper in 1985. A modern rotation beacon replaced the original light in Febuary 2002 using a 50 watt tungsten halogen bulb and has a back up battery.
Te Araroa is the gateway to the lonely East Cape Lighthouse, 21km away at the easternmost point in main land New Zealand.
Transport Directions: from the Pacific Coast Highaway follow highway Hwy 35 to Hicks Bay at Te Aroroa. The lighthouse ca be reached by a 25 minute drive on East Cape Road to the car park. Here you will embark on a short 700+ step climb to the lighthouse, well worth it for the views at the top. From the lighthouse, you can look out onto East Island, the original location of the Lighthouse. The site open the tower is closed to the public.