Visiting the Te Reinga Falls Scenic Reserve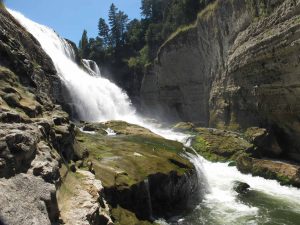 The majestic Te Reinga Falls actually consists of four waterfalls that drop 35 metres into the Wairoa River. The Te Reinga Falls are fed by the Ruakituri and the Hangaroa Rivers, which merge just above the falls. This spectacular spot is a 2-hour drive from Napier.
Due to limited access, the best way to view the Te Reinga Falls is to get on the official lookout. From the parking and picnic areas, a short track leads you to the Te Reinga Falls platform. It's a short 5-minute walk each way.
What to remember
The best time to see the Te Reinga Falls at their mightiest is during or after heavy rainfall. The viewing platform is the best place to see the Te Reinga Falls; however, you should be aware that not all four falls are visible from the platform. You can take photos using a drone from the lookout.
The Te Reinga Falls is a popular picnic spot so bring food and a picnic blanket. Dogs are not allowed at the Te Reinga Falls. Wear sturdy footwear for the trek to the falls.
After your picnic, you can continue on Ohuka Road or Ruakituri Road and see amazing views of farmland, hills, and grazing animals.
How to get there
The Te Reinga Falls is roughly an hour's drive from Gisborne or two hours from Napier on sealed roads. The falls themselves are about 35 kilometres inland from Wairoa.
To get there, turn right onto Tiniroto Road from Frasertown. Follow this road until you reach Te Reinga Falls Scenic Reserve. Turn left onto Ruakituri Road and cross the bridge. You'll find the carpark at the western end.
If you want to learn more about the Te Reinga Falls Scenic Reserve, click here.