Be the First to Greet the Sun at the East Cape Lighthouse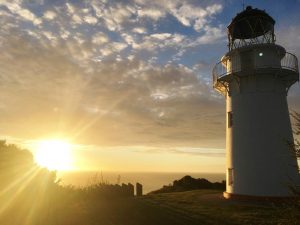 There's an 800-step trek up to the East Cape Lighthouse, but it's well worth it when you see the sunrise and realize that you're one of the first people to greet the morning sun on that day. Every year, travelers come from all over the world and head to the East Cape to watch the dawning of a new day from the easternmost point in mainland New Zealand.
The East Cape Lighthouse rises 154 meters above sea level and is located on Otiki Hill on the East Cape of the North Island. The lighthouse was first built on nearby East Island but had to be relocated because it was difficult to get to. Four men died during construction when their boat sank.
The island also proved to be too hazardous. It was vulnerable to earthquakes and landslips. Because of this, the East Cape Lighthouse was transferred to its current location on the mainland in 1922.
The lighthouse was initially manned by three lighthouse keepers. In 1985, it became fully automated and has since been controlled by Maritime New Zealand from their headquarters in Wellington.
What to expect
There are several beaches that are easily accessible from the East Cape Lighthouse. The lighthouse itself cannot be accessed by the public.
If you are visiting the East Cape Lighthouse, wear sturdy footwear. The steps can be quite slippery when it rains.
How to get there
From Te Araroa, take the East Cape Road and drive 22 kilometers to the easternmost point on the mainland. The road passes through several sandy coves and hugs the eastern coastline, granting you spectacular views.
Visit Hicks Bay Hotel for more information about the Lighthouse.You can also learn more about our blogs that provide updates to whats the best places you can visit in NZ, we have the best hotel accommodation in New Zealand. Feel free to Contact us today!