From Wellington to Cape Reinga A Kiwiana Road Trip to The North Island of New Zealanad Part 2
Last week, we pointed you to some of the great places that you can stop by whenever you are having a road trip to the North Island of New Zealand (Read last week's guide here).  
This week, let us give you the guide for the rest of the regions.
From Taupo, head to Gisborne, the first land on Earth to witness the sun rises each day. The area is highly influenced by the Maori culture so if you wanted to know more about NZ's culture, this is the place to be. Here is where you can find great Kiwiana foods, golden beaches, museums, walking trails and alburetums. Drive around Te Araroa and endulge your eyes to the beauty of the Pacific Coast. If you need a place to stay, Hicks Bay motel, a five-decade old kiwiana lodge is situated in the remote area of Te Araroa.
About three hours away from Gisborne is Tauranga city. There is a beautiful family owned park of 32 hectares called the Sapphire Springs Holiday Park & Thermal Pools. It is made of charming native forest which is set in the Kaimai Ranges. You should also stop by at Marshalls Animal Park. It is  at 35 acres of area filled with friendly animals waiting for you. Feed and play with giant African ostriches, several breeds of sheep, goats, birds, horses and other friendly animals. There are picnic spots too.
Next stop, Hamilton city in Waikato region, one of New Zealand's largest city and a multicultural region. Hamilton is where you can find the Hobbiton movie set. There are also gardens, lakes, museums, galleries and markets to visit.

From Hamilton drive to Auckland City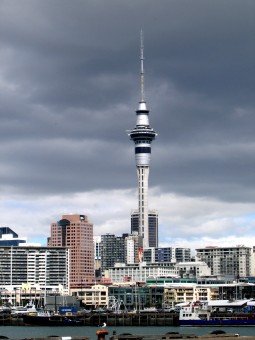 What's in Auckland?
Well, just a massive number of attractions! Go penguin watching, explore thermal pools, taste kumeu wine, visit the set of Lord of the Ring, experience the iconic New Zealand Sky Tower or wander around Milford Sound. There also a bunch of other things that you can do here for free like visiting art galleries, climbing Mount Eden, go swimming, unwind at a white sand beach, visit The Domain or watch sails at Wynyard Quarter.
Approximately three hours away from Auckland city is the Bay of Islands. The Bay of Islands is an area meant to be delve into via boat. After you drop off your car at a local hotel, you may want to explore historic places, coves, designer rock formation, nature trails, vintage railways and Maori churches. Because water is omnipresent in the Bay, you can expect a whole lot of beach activities and water sports.
After your visit at the Bay, you're en route to the end of your road trip to Cape Reinga. Although, the fun doesn't end here. Go for an overnight cruise, enjoy scenic flights provided by local tour guides or explore 90 Mile Beach. Reaching the famous Cape Reinga lighthouse is also a goal for most travelers.
What's more is, Cape Reinga is where Tasman Sea meets the Pacific Ocean along with the stunning swirl of currents.
So come visit us the North Island of New Zealand. An unforgetable road trip of a lifetime awaits you!