Have You Already Visited the Bay of Plenty
Have You Already Visited the Bay of Plenty?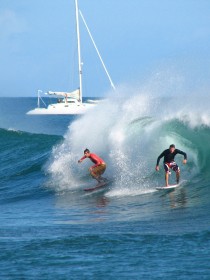 About three hundred kilometers from Te Araroa where our fifty-year-old Hicks Bay motel sets, is Bay of Plenty – one of the most popular tourist destinations in New Zealand. Although more than forty seven percent of lands in this region are surrounded by indigenous forests (and majority of the rest are of exotic pastures, production forests, mixed scrubs, horticulture and urban areas), Bay of Plenty's proximity to beaches makes it a center for extreme water-sport activities.

The western area for instance, specifically Maketu Beach, has been known to tourists as an extravagant surfing place while Kaituna River never failed to exhilarates river-rafters with its speed, spins and spectacular scenery.
There is also the Rotorua District known for its geysers and hot mud pools but most of all, the district has incredible jet boating spots.
There is more.
Do you know that Bay of Plenty is also the home of the most beautiful kayaking coastline in New Zealand – the Lake McLaren? As you paddle your way through this lake, you'll pass through the stunning Mangapapa Canyon and gets to witness "glow-worms".
Whakatane, situated in the eastern part of the Bay of Plenty is blessed with colorful coastlines, winding rivers and breathtaking lakes. Here is where you can do various kinds of sailing activities such as snorkeling, diving, fishing or just simply sight-seeing.
There's a bunch of other interesting things about Bay of Plenty.
Do you know that it is the first part of NZ to be settled by the Maoris? Captain Cook gave the name Bay of Plenty to this region after he noticed the abundance of foods around the Maori villages. Interestingly, Plenty of Bay also resembles some other country in the world. Romeo Bragato, an iconic person responsible for the early development of wineries in New Zealand, settled in Bay of Plenty because its landscapes reminded him much of Italy.
Currently, Bay of Plenty's Port of Tauranga is New Zealand's largest export port.
As you enter the Tauranga Harbour, you'll see a volcano called Mt. Mauao (Mauao means "Caught by the Light of the Dawn"). Mt. Mauoa's summit can be reached through various tracks. When you reach the top, you'll witness breathtaking views of the Pacific Ocean, harbor and stunning beach.
Since you would be in Bay of Plenty, you should also visit the region sets next to it – Gisborne. Gisborne produces the best of New Zealand wines (matter of fact it is called the Unofficial Chardonnay Capital of NZ), visit historical places, drive on the ever-gorgeous Pacific Coast Highway and experience the Maori culture.
One thing.
Don't leave NZ without touring around the best spots in this country!