Rainy Day Fun at the Dome Cinema Theatre -Gisborne NZ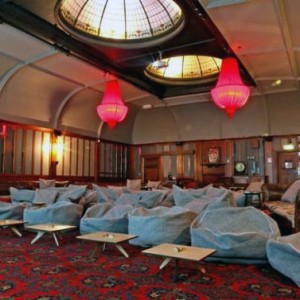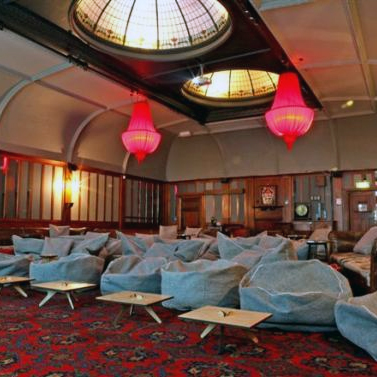 With the weather having been a bit drizzly of late, how about heading out for some old-fashioned fun indoors at Dome Cinema theatre in Gisborne NZ?
This nostalgic theatre attraction is not your run-of-the-mill night at the movies. The room is set in the old Gisborne Gentlemen's Club billiard room inside the Poverty Bay Club building. Three exquisite backlit stained glass domes affixed atop a high ceiling shed an enchanting glow down onto the red carpeted floor below. Wine and cocktails can be purchased at the bar with the opportunity to place a pizza delivery order for consumption during intermission.
Friendly and helpful staff members then take you through a brief history of the theatre before the evening presentation commences. Choose a seat in one of the old leather couches that line the back of the room, or sink into one of the many individual or double beanbag chairs that litter the center of the room. If you have you never sat in a beanbag chair before, don't be intimidated! Staff will give you a brief tutorial on how to get settled and comfortable. Before you know it, you'll be ready to sit back and enjoy the feature film!
The Dome Cinema makes an excellent mix of modern and fun, offering charm, elegance and romance. A list of screening times and films can be found on their website. Many of the films are "film-festival" in style, and links to the trailers are available on their site as well. The address to the theatre is 38 Childers Rd. in Gisborne.