Another Magnificent Winter in New Zealand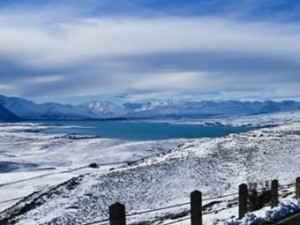 It's winter in New Zealand again. A country known for its spectacular almost surreal landscapes. Probably part of the reason the North Island was chosen as the setting for popular films like 'The Hobbit' and 'The Lord of the Rings'.
New Zealand can be a spectacular playground at most time of the year, but more especially during winter season.
It's the month of June again – the start of winter in New Zealand!
For the locals, this is the time of the year to hit the slopes which they treat as playgrounds. Winter in New Zealand varies ranging from cold crisp days throught the country to a more temperate climate on the western coastal regions. Queenstown, located in the far south, is a place admired by many winter-sport lovers and considered to be the adventure capital of New Zealand.
If you are seeking for thrilling snowboarding or skiing adventures, then your feet should be right here in this town. Just a short drive from Queenstown is the Coronet Peak, one of New Zealand's premier ski areas where you can find wide rolling terrain and open slopes.
And, if you want the ultimate adrenaline rush, then you may try heli-skiing on the Southern Alps of New Zealand. Whether you wanted to go for skiboarding, skijumping, sleeding, snowmobiling or any other snow sports that you can think of, visiting New Zealand during its winter season will be the wise option.
Aside from Queenstown's skiing areas, there are also other places for great snow activities such as Mt. Hutt, Mt. Dobson, Snow Park, Wanaka Winter Resort and Ruapehu located in North Island's volcanic plateau or you may visit the icy Lake Tekapo. These places have a wide range of accessible terrain parks, ski trails and dedicated areas for newbie snow bunnies.
But, there's much more to New Zealand than just hitting the slopes.
The fun on your winter travel can be found not just in the mountain areas. When you're in New Zealand, you should not miss the geothermal wonders in the North Island.Visit the popular Central Otago Wine Region which is located near ski hubs like Lake Wanaka and Queenstown.
Coastline areas in New Zealand such as Hicks Bay also offers amazing views whatever the season. And of course, don't forget to stay at one of New Zealand's finest motels, the Hicks Bay motel.
Get ready to enjoy a fun-guaranteed trip to the home of Middle Earth in it's winter slendor!