Eastender Horse Treks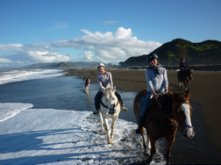 Less than 40 minutes from the Hicks Bay Motel, you will find a spectacular opportunity to ride horseback with Eastender Horse Treks through one of the most beautiful terrains you will ever encounter. This is a family-friendly opportunity with opportunities for all ages, and one experience you will never forget!
Whether you are a fan of the bush country, beach, or both, Eastender Horse Treks has you covered. Enjoy a local guided tour atop the back of a beautiful robust 4-legged beast through the bountiful Rangitukia terrain. Your choices for tours include riding over the sandy beaches through the waves of the Pacific Ocean or trekking through several streams and hills through native bush country. You will even learn a bit about the historic Maori culture along the way!
These two-hour tours begin at $85 per person. Can't choose between the two? How about a 4-hour tour through both for $120 per person? For the truly adventurous, they also offer an overnight camp (approximately 5-hour ride) for $290 per person, conditions permitting. Even young children can enjoy a bit of the fun with a $25 per half-hour Paddock ride. Beginners and experienced riders alike are welcome. Eastender Horse Treks can be found by heading east on Highway 35 and continuing onto Rangitukia Rd. for 8.6 km. (876A Rangitukia Road, Tikitiki, 4087). For photographs and more information, please visit their website at
Eastender Horse Treks
http://www.eastenderhorsetreks.co.nz/index.html . For bookings, you can contact them at (06) 8643033 or email them at info@eastenderhorsetreks.co.nz. Happy trails on your holiday!