History of Hicks Bay, NZ Area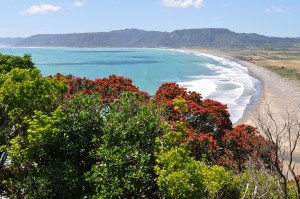 Hicks Bay is located on the East Cape of New Zealand, 186km from Gisborne. It has been occupied for about the last 1000 years. The area is home of many ancient Maori historical sites.
The East Cape is a rural and peaceful area with wonderful slow pace of life. Hicks Bay is known for for their unmatched sunsets in the summer months, where the crimson red colors of the sky contrast with the azure blue waters of the pristine ocean.
The East Cape of New Zealand is the easternmost point of the main islands. The name "East Cape" also refers to the Gisborne region. This is the area from just north of Mahia Peninsula stretching northward and inland to Te Urewera National Park.
On 31 October 1769, Captain James Cook in the 'Endeavour' was travelling around the East Cape at some distance from the shore. It was then Lieutenant Zachariah Hicks sighted a bay. Captain Cook named the bay Hicks Bay in honor of Lt. Hicks that discovered the bay. This bay was originally named Te Wharekahika.
In January of 1834 a group of slaves returned from Northland after having been converted to Christianity. The original St Barnabas Church was built in the 1860s and then in April 1974 it was destroyed during a severe southerly storm. In 1979 it was replaces by the present St Barnabas which stands in the marae grounds (meeting grounds).
The peaks around Hicks Bay are volcanic in formation. They are named the Matakaoa volcanics and erupted under the sea before being raised up.