New Zealand Geothermal Parks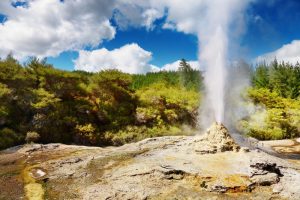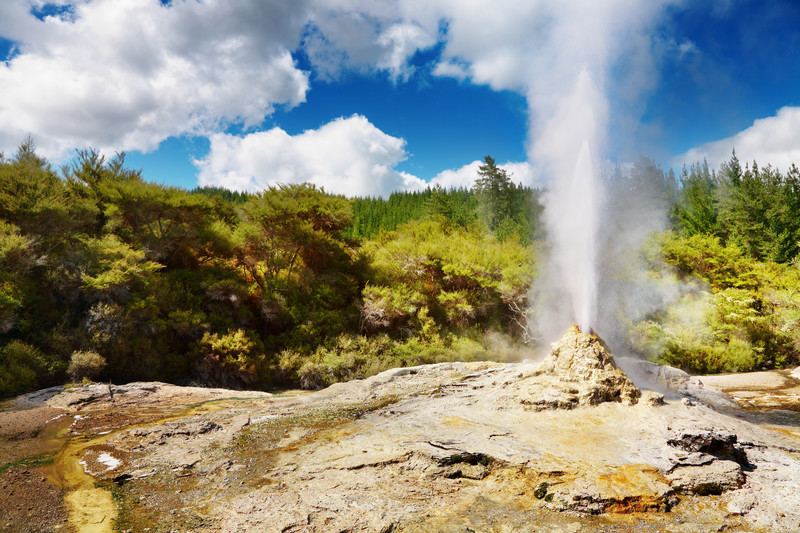 New Zealand sits on an active fault line, resulting in some spectacular geothermal activity. The Taupo Volcanic region is the second most active area for geothermal activity in the world, second only to Yellowstone National Park (United States). It's no wonder that Rotorua is one the top destinations for travelers, boasting of several otherworldly New Zealand geothermal parks.
Geothermal Activity – Rotorua
Fumaroles – Natural vents in the earth from which steam and gasses escape.
Geysers – Geysers form when hot water builds pressure under the earth and is forced up through narrow openings. There are several geysers which go off at regularly throughout Taupo New Zealand geothermal parks.
Sinter Terraces – Overflowing hot springs leave mineral deposits which build up formations of colorful layers.
Mud Pools – Gas and steam rise from underground into rainwater ponds, mixing with clay to make heated mud pools. Take caution, these mud pools can get pretty hot!
Rotorua, New Zealand Geothermal Parks
Kuirau Park – This public park is located at the edge of Rotorua, filled with plenty of visible geothermal activity, and is free to enjoy. Be sure to stay on the walking tracks for safety.
Tikitere (Hell's Gate) – Located between two lakes, this is where you can witness a mud volcano and see the largest hot waterfall in the southern hemisphere.
Te Puia – Experience Maori culture alongside geothermal wonders, located in the Whakarewaeewa Thermal Valley
Waimangu – Take a self-guided tour through the bush or take a boat tour where you'll witness some fascinating geothermal phenomena.
Wai-O-Taupo – South of Rotorua, you can see Lady Knox Geyser and the well-known Champagne Pool with vivid mineral hues.