New Zealands Places That A Traveler Must Bookmark
New Zealand's Places that a Traveler Must Bookmark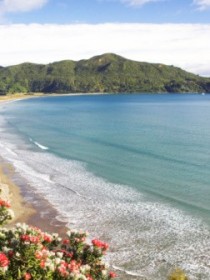 The month of August will soon be gone and so is the winter season in New Zealand. Yet, if the snow fun is one of the things that you're after, don't worry, NZ's Spring season won't hold you back. You can still expect powdery snows on New Zealand's famed skiing trails plus with a temperate climate that you'll surely love!
Before you hit the plane, bookmark these places in NZ that you should not miss!
Franz Josef Glacier – located in Westland National Park on the west coast of New Zealand, this glacier offers a temperate, dynamic environment which is loved by many tourists. Considered as one of New Zealand's gems, the Franz Josef Glacier has a range of glacier hiking trails that suits all levels of fitness and ability.
Rotorua – Rotorua is known as the geothermal capital of New Zealand since 1800s. Mud pools, thermal springs and geysers are what attracted many people to visit this area. And, if you are looking for entertainment, fun, excitement and adventure, then Rotorua is where your feet should be.
Tongariro National Park – Are you up for some adrenaline pumping adventure? Rock climbing maybe? Or, horse trekking perhaps? How about river rafter, or horse trekking or simple a walk on volcanic plateau tracks? If any of these attract you, then you should head to the Tongariro National Park. Some of NZ's best fishing places are found in Tongariro Rivers.
Napier Art Deco – Rich in history and one of the most tourist-visited towns in New Zealand today, the Napier Art Deco, back in 1931, was destroyed by earthquake and fire. It was in February 3, of the said year when a 7/8 Ritcher magnitude scale earthquake shook the town killing 161 people followed. It was then followed by a fire that brought bigger destructions. The disaster wiped out the town of Napier in less than an hour. About 4000 hectares in today's Napier were undersea before that drastic earthquake raised those lands above sea level.
Hicks Bay – A remote place to visit, surrounded by rugged mountains, beautiful beaches and is rich in Maori culture, Hicks Bay is your ultimate option if you are seeking for a refreshing short vacation. Here is where you can find the five-decade Hicks Bay motel that offers the traditional Kiwiana services to its guests. You should experience it yourself.
As you probably notice, every country has their own natural beauties that they are proud about. It just so happened that New Zealand has a lot more to offer — way more. Surrounded by landscapes, rugged mountains, idyllic beaches, glacier trails, historical places, springs, thermal pools and interesting culture — really, what is not to love about NZ?