Union Steam Ship Company – USSCo Bar & Bistro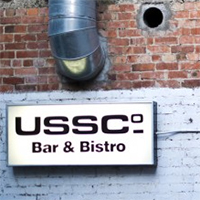 Looking for a really great place to enjoy dinner while touring Gisborne? Look no further than the USSCo Bar and Bistro, located near the inner harbor. For three years running, the USSCo Bar & Bistro gained a spotlight in Cuisine Magazine's "Good Food Guide", and a Trip Advisor Certificate of Excellence for 2014.
Judging from the crisp, modern décor, you may you may never have guessed that you're actually walking into a big piece of New Zealand History. The USSCo Bar & Bistro restaurant was actually built inside an old historic shipping company building and remodeled to offer the cozy and relaxed atmosphere that it is today. Live piano or guitar background music may tickle your ears on select evenings.
Award-winning chef and owner Thomas Boyce takes great care to develop an exceptionally unique and flavorful menu each day from fresh, seasonal produce, meat and seafood; all of which are locally sourced whenever possible. Daily menus include everything from appetizers and generous entrees, to special multi-course selections. Be sure to ask your server about the daily special as well.
Compliment your meal with a glass or bottle of exceptional local wine, or for the more casual diner, the bar also offers a unique selection of New Zealand craft beers.
Don't forget to leave room for dessert! The USSCo Bar & Bistro has a big reputation for their sinfully delicious dessert creations. With desserts like the salted caramel cheesecake and toasted cashews, or the vanilla pannacotta with roasted fig and agave foam, who can resist? Check out their website