Warm Up at Hell's Gate – Winter in Rotorua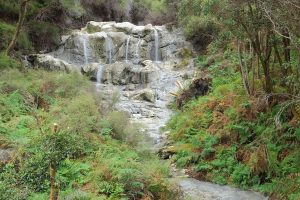 Rotorua is the largest geothermal playground in New Zealand. Its landscape is otherworldly, consisting of erupting waters, boiling pools of mud and a mud volcano, steaming fumaroles, and Kakahi Falls – the longest hot waterfall in the southern hemisphere. You can experience all this and more at Hell's Gate in Rotorua.
Warm Up at Hell's Gate – Winter in Rotorua
Hell's Gate is Rotorua's largest geothermal reserve, just minutes away from the city. It's a fascinating place to visit year-round, but especially in the winter when you're looking for weather-appropriate activities. Hell's Gate offers a variety of things to see and do to. Price ranges are between $20-$240.
Geothermal Walk – Take about 45 minutes to walk through Hell's Gate geothermal park and witness some of earth's most amazing geothermal wonders. You can also choose to kick off your shoes and squeeze the mud between your toes in the geothermal mud foot pool. Twilight tours and guided tours are also available options.
Mud Bath and Sulfur Spa – Immerse yourself in the healing mud baths and sulfur spa for a relaxing afternoon. Private mud bath and sulfur spa experiences are available. Family packages are also available.
Miri Miri Massage – Release the tension with a traditional Miri Miri therapeutic massage for mind, body, and soul.
Combination Packages – Choose a custom experience to include a geothermal walk, mud bath, sulfur spa, and private mud bath and sulfur spa experiences for adults and families.
Carving House – Visit the carving house to learn more about traditional Maori carving and create your own custom carved masterpiece token. The Master Carver will then varnish your finished token so you can take it home and through customs.
For more information on pricing and for booking, visit the Hell's Gate website.