White Pine Bush Scenic Reserve the NZ Coastal Forrest Terrain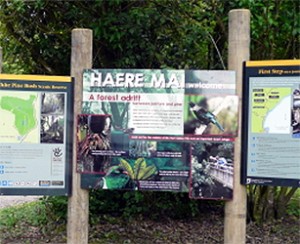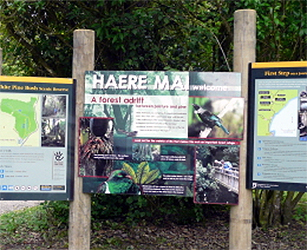 Pack a picnic lunch and head west on the 35 toward Whakatane to visit one of New Zealand's remaining coastal forest terrains; the White Pine Bush Scenic Reserve. Located less than 2 ½ hours from the Hicks Bay Motel, this excursion provides something fun for all ages. There are so many things to see and enjoy, so be sure to bring your hiking shoes, sketch book, camera and/or binoculars!
This 19 hectacre parcel of forest is named after the Kahikatea ("White Pine"), which is one of the predominant species of trees within the forest. You'll also find another iconic species throughout the forest called the Nikau Palm. Both species provide homes to a great many number of unique and beautiful birds. Along the tracks, you'll also see a babbling brook and waterfall, home to small fish, eels and freshwater koura (crayfish). Whether birdwatcher or little bug catcher, this reserve provides visitors with a magnificent opportunity to view and explore nature.
Within the reserve, there are two looping tramping tracks. The Short Loop track is 800m which will take approximately 30 minutes to walk. This is an easy walk and wheelchair appropriate. Along this loop you'll find picnic tables to enjoy your lunch while you take in the outdoors around you.
The Long Loop track is approximately 1.6km and takes approximately 40 minutes to walk. Walking this trail affords you some great views of the rest of the reserve. This trail does not offer wheelchair access.
For more information or safety tips, visit the Department of Conservation website.