Fun Things to Do in Rotorua – Okere Falls Store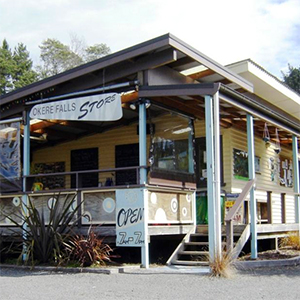 Take a trip back into the old country the very minute you arrive at the Okere Falls Store. If you're looking for fun things to do in Rotorua, there are plenty of adventures to choose from, but this little side step should be added to your itinerary while you're in the vicinity. It's a bit of extra fun for the kids and adults alike.
Okere Falls Store – Fun Things to Do in Rotorua
The Okere Falls Store has become a favourite place for locals to gather for a craft beer, entertainment, and unique specialty items. Kids are invited to play while adults are invited to grab a drink or snack, sit back, and enjoy their nostalgic surroundings. There's even a beer garden! Visitors are always warmly welcomed to join in the fun at the local's best kept secret.
The passion for quality, sustainable products is obvious while perusing the shelves. From snacks to staples, you'll find a wide selection of unique and delicious products made locally and from around the world. The owners have taken sustainability to the next level by providing their customers with a composting toilet to use while on premises (weird, but kind of cool).
A Bit of Local History
The building was purchased, remodeled and renovated in 2004 by Sarah Uhl with the help of family and friends. It was just your typical small-town local store next to the petrol station, nothing particularly special about it. Sarah Uhl and her crew were tedious in maintaining the old 1950s country look to preserve the feeling of nostalgia that you get when you visit this little gem.
More Fun Things to Do in Rotorua
Looking for a bit more excitement? Check out these ideas!
Agrodome
Hells Gate
Skyline