Rere Rockslide – Free Outdoor Fun Near Gisborne, NZ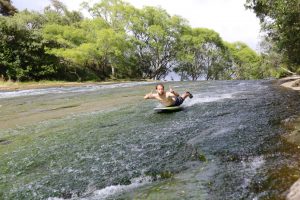 Looking for some free outdoor fun near Gisborne? You'll find just that when you plan to spend an afternoon out at the Rere Rockslide, about 40 minutes outside of Gisborne. It's a natural rock waterslide that empties into a pool where you can cool down as the warmer weather creeps up. And yes, it's free!
Certificate of Excellence from Trip Advisor
The Rere Rockslide recently earned the #1 spot out of 37 things to do in Gisborne by Trip Advisor reviewers. It's a great source of adrenaline, especially if you have kids who need to burn some energy, and you can get equipment for hire in Gisborne at the Gisborne i-SITE before you go. Hire rates are very reasonable.
Plan Your Day – Free Outdoor Fun Near Gisborne, NZ
You'll want to plan to bring snacks, plenty of drinking water, swimwear, towels, and a picnic lunch if you'll be there in the afternoon. There are picnic tables located nearby for lunch; a small walk from the rockslide, which has a beautiful view of the water falls. Keep in mind that because this is free outdoor fun near Gisborne, you may end up sharing the fun with other locals or visitors if the weather is amicable. Please respect the area and clean up any rubbish you bring.
Always Keep Safety in Mind, Be Courteous to Others
There are no lifeguards on duty and it's the responsibility of visitors to take safety precautions. Always allow some time for those at the bottom of the slide to move out of the way before sliding down. Sliding down the rock slide is done at your own risk.